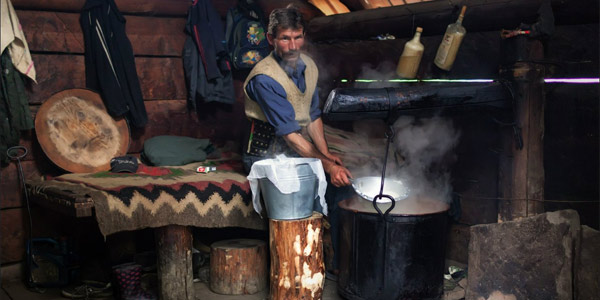 19.04.2018
The Carpathians taste like cheese
Spine Kostrycha that is in Verhovyna area is low and short out. Fans of mountain jogging sports will be disappointed.
And for those looking for romance of Carpathians – this is where they have to come. Unbelievable beauty! Of course, because Kostrych is right under Chornohora spine. Seems like put out your hand to the right – take the piece of the cloud from the top of Goverla, on the left – touch to the observatory on the mountain Pip Ivan. In good weather you can even see glimpses of the lake Nesamovyte. But the weather is capricious. So this time as well, the sun was shining just now, but suddenly black cloud would happen. A-a-a-a-nd it will rain heavily now! Quickly run and get to the meadow. There is – bulb! Saved! And over the meadow merry chime flock is raising as up to heaven. Here are the sheep – about 100 meters above the house. Well, let's go – the storm drove us to visit sheep…
Banosh with smoke
"God help" – greeting, while entering the restaurant. " God bless you too" – we hear in response. After the bright daylight eyes are getting used to the twilight of a restaurant for a few minutes. No windows here. Rays of light breaking through chinks in the walls and a hole in the ceiling. The smoke from the fire that burns in a house – on the ground (specially for this piece plank floors were dismantled) escapes from the room through the same hole. There is only very long table in the house, two benches and wooden plank on which people sleep, covering by preserved blankets of wool and cotton burlaps. Shepherd implements are on the walls. Clothes and other things are in a heap under the attic. The only thing that reminds of the XXI century – the radio that hid silently in a corner with a dart instead of antenna.
At the campfire pot of shepherd Vasil making some magic. He is stirring banosh with a huge wooden spoon. The right one, the one that propped smoke and fire. And be sure the spoon is wooden, because metallic spoils taste – this is a testament of Hutsul culinary science. "We are seven here – says, Vasil not looking up from his work, – almost all from Kosmach. We have about four hundred of sheep, dozens of cows and horses." Shepherd turns the contents of a copper plate on a wooden plate and puts on yellow, steaming "bread" of banosh, and next to it a bucket of milk. Lunch is served!
I grew up here
In a moment the doors open and one by one the rest of the shepherds sharply go in. Each holds two buckets of milk. Afternoon milking quickly being poured in a huge pot. All actions so clear and consistent that seems like a kind of magic show or the new movie of Parajanov. Smells of smoke and heat milk return to reality. Here it is – authentic which is hunted by world! Scenes not worked in many takes, but for centuries.
One of the shepherds immediately recognized as the oldest – the leader. He stands out not only by age, but by hosting posture. The cabin spacious, and surprisingly clean, order is everywhere immediately good hand of Gazda is visible. Mykola is being a shepherd for 30 years, 16 of them – on Kostritsky meadow.
"From the third grade I was on the meadow, my father started taking me with him. Now my son is also here with me, – says Nicholas. – This meadow is good, spacious, hard to find. Cold though, because opened for all winds".
"Don't get bored?" – can't hold a trivial question from a city girl. The leader with a quiet smile just shakes his head: "I grew up here …"
Cheese science of the Carpathians
As if by invisible order shepherds sit at the table. Guests are treated generously with cheese: budz and vurda – incredibly yummy, no brynza, didn't managed to grind yet. They invite us to taste banosh, but we are holding back our appetites here – that "bread" is too small as for seven hungry men. Dining fun, but quickly – no time sit there. They need to milk every sheep three times a day, a cow – twice. And in addition: weld food, put water, chop wood, drive the morning and evening to gather the sheep. And the most important – make cheese! And like this all four months of meadow summer, from May to mid-September.
However, now, though slightly, but still easier than before. Instead of ringing knock of axes howling of chainsaw spreads through meadows. As the fire goes out suddenly – not a big deal. It was before "alive" and had to burn all the time. Trembitas did not stand competition from mobile machines. And instead of colorful faykas hutsuls smoke regular cigarettes.
Guys gather a pot for new portion of cheese. To hang over the fire, three of them raise it. Not surprising, because on one milking flock give 15 buckets – 15 liters each. They must cook it in two boilers. They add "leaven" to milk – from the stomach of a young calf – heat it a little and take from a copper "first" cheese, which then hung in gauze – to drain and then put that bread for a few days on under attic.
As it smokes dries – will be a budz "meadow's bread". And if grind it with salt will get brynza. With serum that remains in the pot, make vurda – it is a sweet cheese. It is fatty, good for bread, and can be eaten by itself. Too bad vurda can't be saved long, but the brynza won't lack anything even in half a year.
"The real brynza can only find here in the meadows, and perhaps on shepherd festivals. So real brynza is Poloninian (from the highlands) – says the leader. – Some cheese making down there as well, but it is no that. Brynza has to stay and get some smoke. And what is selling in cities is a so-called brynza. They don't understand what true … ".
In the thick aroma of restaurant fresh breath of mountain storms breaks in. Guys, wearing rubber raincoats, again go in rain – to round up sheep. We save no shoulders, fill shoulder pads with cheese.