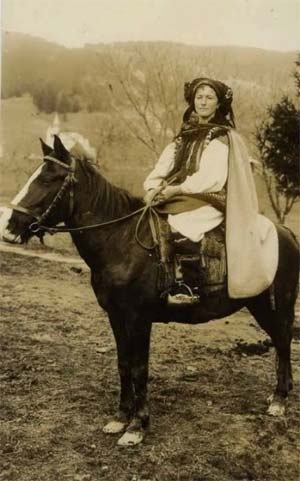 07.04.2021
Hutsuls and their horses
It is difficult to find another such horse in the world that would withstand what a good Hutsul horse can withstand. It mostly eats hay and oats are very rarely. In summer it spends day and night in the meadows, although the nights are cold and sometimes even frosty. It rarely sleeps in the stable. There is no horse of another breed that could work like a Hutsul horse in such extreme conditions. Very hardworking, faithful and needs little. Therefore, it is very interesting where the Hutsul horse comes from, which, thanks to its ancestors, became what it is today.
When the Polish government saw that the Hutsul horse breed was disappearing after the war, it took care of their rescue, sparing no money or effort. Thus Hutsul horses were not only saved from extinction, but also bred. Mykhaylo Gollender, a great connoisseur of Hutsul horses, made great efforts to do so. Since 1925, there have been annual horse shows in Zhabye (Verkhovyna), Ustyriky and Kosiv. The government gave generous rewards for the best feeding of horses. Dozens of horses were purchased for the army, where they were bred. Even people from other countries came to the Carpathians to buy mares for breeding: from Hungary, Luxembourg, the Czech Republic…
Hutsuls treat horses well, respect them, and caress them. But some owners do not wait for the horse to grow up and gain strength. They harness a poor foal and as a consequence have a weak horse instead of a healthy one.
This can happen to a large and adult horse, when the horse is working hard and the owner does not give him a break. Such a horse will not be suitable for work; it will be bought only because of the skin.
The most terrible disease for Hutsul horses is pneumonia. This disease is caused by the fact that the horse is poorly fed, he is allowed to eat moldy hay. The disease can be cured by giving the horse a good pasture or keeping it in a stable and feeding it well. It should be well considered not to allow the horse to eat flattened hay anymore. It is very important that a good blacksmith forges a horse.
Horseback tour in the Carpathians
You can not only see but also ride a Hutsul horse. We offer a two-day horse riding tour in the Ukrainian Carpathians. You will find beautiful nature, spending time with shepherds on a traditional dairy farm high in the mountains, simple open people, delicious homemade food and good mood. This adventure is available from May to September.