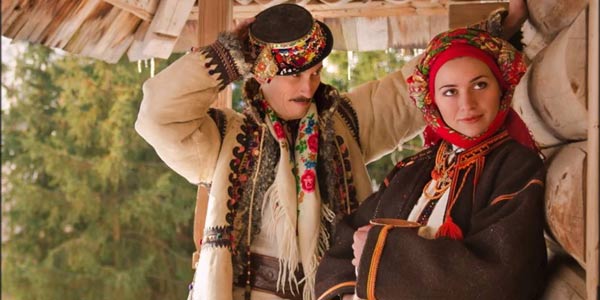 19.04.2018
Hutsulshchyna and hutsuls
Territory of Hutsulshchyna
Settlement of hutsuls occupy the eastern part of the Ukrainian Carpathians: present Verhovyna, Kosiv (excluding the northern strip), the southern part of Nadvirna and Bogorodchany districts of Ivano-Frankivsk, adjacent Putyla and southern part of Vyzhnytsky and Storozhynets areas of Chernivtsi regions and Rakhiv area of Transcarpathian regions. Historical and ethnographic Hutsuls are in the southeastern part of the northern areas of Syhota and Vyshiv that are now in Romania.
Origin of the name hutsuls
Origin of the name hutsuls (Hutsul) has a different interpretation and is still not fully clarified. Some authors associate it with walnut word meanings hotel robber, others derive from the word roam – kochuly, considering hutsuls primitive nomadic tribe, others – from the Turkic tribe name uziv, from which would seem hutsuly to come, and so on. Settling of Hutsul area and Ukrainian Carpathians in general as source show was for a long time and went mainly from north to south through the mountains progressively setting economic development in river valleys and mountain slopes. The main element of colonization was an Eastern Slavic population, although it is quite possible trace of nomadic and village and remnants of ancient Turkic, Eastern Romance tribes their influences affected in particular, the traditional consumer culture of hutsuls.
Economy of hutsuls
Depending on environmental conditions of the Carpathians, a small land area suitable for cropping in the mountains, the main role in the economic structure and industrial life hutsuls played livestock, including pasture with sheep advantage in its structure. On this basis, the culture Polonyny economy developed with its building types, forms of pasture, production functions of life, ways of processing of milk, making cheese and so on. Hutsuls lived of cattle and forest floating. For journeys between sustainable settlements and alpine pastures (meadows) they brought small and hardy breed of horses, which were also called hutsuls. The working day in the Carpathian meadow and cattle drive were accompanied by trembita – woodwinds, "relative" of Alpine Horn.
Hutsul settlement
With the advantage of the nature of livestock farming hutsuls largely connected with a special type of settlement – they mostly dispersed peculiar placement estates ("osedky") and not only in the valleys, but also on the slopes and tops of the mountains, that is closer to the pastures and feed of stocks . Hutsul area preserved ancient type of court with closed system of buildings on perimeter – grazhda. The basic material for hutsuls' clothes were homespun wool cloth, fur and homemade sheep skin. But traditional Hutsul clothes components, including celebratory and ceremonial (like Carpathian bridal chaplets of goose feathers), had rich ornamentation, ornaments, embroidery, applique, stamping on leather, metal products. There were special and various applications to clothing (ax, leather bag, tobivka, purse, neck women's jewelry, etc.).
Economy of hutsuls
A significant proportion of economically productive activities of hutsuls belonged to different support occupations: gathering (berries, mushrooms, nuts, medicinal plants), wood hack, alloy timber. The most common and important of crafts and home crafts were wool processing, leather, weaving, pottery, woodworking, and willow and root netting. There are also know Hutsul ancient types of crafts as salt making, potash production, coal tar.
Life of hutsuls
Peculiar archaic consistently remained in the family and social life with its inherent patriarchal attitudes, respect for parents and elders of the village, in various areas of spiritual culture: traditional knowledge, beliefs, customs, rituals. They have the prints of the spiritual life of different ages, starting from primitive society, the combination of pagan and later Christian elements, fantastic irrational ideas with practical experiences and proven throughout the ages. Hutsul folk, including folk songs, dance, tales, legends, traditions observed interesting motifs, stories, images, original melodies. Since ancient times Hutsul area is known by original crafts and decorative arts: ceramics, wood carvings, classics of which became dynasty Shkribliak, Dutchak, Devdyuk, miracle pysankas, weaving, embroidering, metal, wool, leather, beaded jewelry, articles of horn, cheese and more. Hutsul wooden churches are well known as well. A variety of products of Hutsul folk artists that are in many domestic and foreign museums and collections of many collectors, striking with bright pictorial, species richness of technical performance, originality ornamental compositions, images and motifs.
All this and more from traditional culture, dialect specific language of hutsuls characterize them as a one of the distinct ethnic groups of the Ukrainian people.
Hutsul Republic
At the end of the 19th century in mountain villages hutsuls with Ukrainian who were also under the name Rusyns were the most of the population. Between 1880 and 1910 because of repression by the landlords and very poor economic conditions there was a mass resettlement hutsuls over the ocean. History of hutsuls is rich for various local uprisings. Thus, in 1918 in Yasinia briefly appeared Hutsul Republic. Hutsuls fought against the Hungary takeover. Two groups of Galicia, supported by Ukrainians went south to important salt deposits of Slatina (now Solotvino). Romanian Army in the cruel battle defeated hutsuls and captured Yasinia in 1919, which also meant the end of Hutsul Republic.
Distinctive hutsuls arts and crafts are wood carving, weaving, embroidery, ceramics and pysanka making – are still cherished in centers such as Kosiv, Vyzhnytsia, Yasinia. In Kolomyya there is a museum of Hutsul folk art. In the travel notes of the 18 – 19 centuries can be found the first written descriptions of clothes and impressive specimens crafts of hutsuls. Public exhibitions in Austria-Hungary in the late 19th century contributed to spread in Europe and staying in memory of Europeans of colorful image of mountaineers. After the unification of Transcarpathia with the Ukrainian Soviet Republic Hutsul folk was kept and crafts products were sold. Now in Rakhiv, Yasinia, Kolomyya and other places there are so-called Hutsul Festival, to which hutsuls and descendants of the Diaspora come from all over the world.
The city of Rakhiv and located north Yasinia there are local centers of Hutsul area. Strukivska church in Yasinia is to the most valuable monuments of Hutsul architecture. Its name it got from Ivan Struk. According to the legend he is a Hutsul shepherd who founded Yasinia. Also worthy of attention is the Hutsul estate in Yasinia. The traditional form of housing – grazhda – is when the house and outbuildings are in the form of a closed rectangle around the inner courtyard. Unfortunately, the current hrazhdas today are not preserved. Today you can see it at the Uzhgorod Museum of Folk Architecture and Rural Life in village Kryvorivnya near Verkhovyna.