Kamyanets-Podilsky and Khotyn private day trip
We offer to visit in one day Kamianets-Podilskyi and Khotyn fortress. With car and private guide.
Kamianets-Podilskyi overview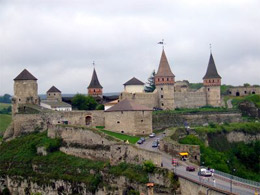 Kamianets-Podilskyi is one of the oldest cities in Ukraine. With its unique combination of historical and architectural heritage, landscape of canyon of the river Smotrych, "The Old Town" was proclaimed the state historical-architectural reserve. Kamianets-Podilskyi was founded as a fortress that had an important geopolitical position on the border between the Christian and Muslim cultures, crossing land and water routes. There are about 200 monuments from XI-XIX centurie. There are places representing different style and religious influences at every corner in the city. It is an unforgettable experience. Because of the rich historical and architectural legacy, Kamianets-Podilskyi was included in the World's culture heritage of UNESCO.
The most beautiful part of Kamianets-Podilskyi is it's almost completely preserved historic center. It doesn't have any architectural additions from 20th century. The town's main monument is an ancient fortress, which first buildings back to the 11th century. The defensive fortifications of the city are considered an excellent example of the best fortifications in the Eastern Europe. Other surviving architectural masterpieces you can visit are: the Cathedral of Sts. Peter and Paul, the Turkish minaret, the Franciscan church, Town Hall, Armenian Church of St. Nicholas.
Crossing a suspension bridge, you get to a wooden church, and right behind it you find the fortress perched on a cliff. The sight that opens is so exciting that you realize it was absolutely worth traveling to Kamianets just for this.
Khotyn fortress
Khotyn fortress
Khotyn fortress can be called one of the most popular objects of the kind in Ukraine. This fortress really impresses people by its power and impregnability and it is one of the best preserved fortifications. Every year, thousands of tourists from all over the world visit it. Many people remember the fortress on the river bank by famous movies. Film-makers often used it as a piece of scenery for episodes of many movies.
Inside the fortress is divided into two courts, a court for soldiers surrounded by barracks and with a well in the center, the commandant court between the Commandant's palace and the Northern Tower. This tower is the largest, and defenders could keep in it even when enemy managed to set inside the fortress court.
The fortress itself is more than just old — its age is about a thousand years! During that period, both appearance of the construction and the rulers of the adjoining lands have changed not for once. This place saw first fortifications back in the times of Kievan Rus, in the 11th century. The stone-built stronghold we can see now was constructed in the 14th century, when Khotyn belonged to the Moldavian Princedom. As a border town, Khotyn always had an important the economic life of the princedom. It housed a customs merchants coming from other regions actively traded their goods and held large fairs. Around the walls of the castle, town streets and lanes gradually grew with artisans coming here to live and work.
For many years, the Moldavian princedom was a vassal to the Ottoman Empire. In the fortress, there lived a Turkish borsholder who brought here his own harem and installed a Turkish bath.
In 1621, the Khotyn fortress witnessed a dramatic event — there a decisive battle of the Polish-Turkish war took place. The army of Zaporozhian Cossack under hetman Petro Sagaydachny played a very important role in securing this victory. The battle ended in a truce that prevented Turks from capturing Podillya region and pushing farther to conquer Europe.
The Khotyn stronghold happened to witness many battles. In the 18th century, Turks captured it again, and did their best to make it still more impregnable.
It is then that the fortress received its external ring of fortifications, the so-called New Fortress. However, after the Russo-Turkish war of 1806-1812, Khotyn was included into the Russian Empire. It received a Russian garrison and the church of Alexander Nevsky, which is still working and is in a good state of preservation.
Khotyn fortress tour
Another well-know fortress that is worthy to see it is the fortress of Khotyn. We can get backwards to the times of wars, victories and debacles, in this walls. In 1621 the army of Ukrainian and polish people gained the Turkish inroad, hence they rescued Europe from expansion. Frankly speaking, it is hard to imagine those events now, sultan Osman II with his forces of 300thousends of Turkish and 100 thousands of Tatar servicemen, against polish army of 57 thousands and 40 th of cossacks. The spirit of ancient time is preserved till now. And is tried to be represented at different historical movies .
The fee of excursion is 20-25$ and entering ticket -1-2$
Trip in army car
If you are kin extraordinary attractions , you are welcome to have a outing on BRDM-2. BRDM is armored reconnaissance patrol car. The best way to see the nature of canyons, rivers memorials, is to have outing in the car. The trip along the river, with its obstacles in the army car- is the good way to see the town from inside. You will be full of advantageous memorizes.
If you like extraordinary feelings but are afraid of riding, I can offer you a paintball time. It is a good idea to stretch your legs, to run, and a good way for fun.
Kamianets-Podilskyi old city horse riding
My greetings guys! Hope you fill great today, and are ready for new advantages. After yesterday's wanderings I propose you to have fun today. Lets start from riding. Don't say that you don't know how to ride horses, on our horses you will fill safe and sure at yourself. I can assure you, you will like it! During the ride, your task is to say to the leader how do you like, if you wont faster-you are welcome, slower- no problems, we understand you. Our animals are well-bred, and calm, that is your trip will be a pleasure for you. A skillful person will keep an eye on you.
Our destinations are the great canyon around the "Old city". Places of interesting n the city. Some historical mountains. If you wonted to explore something new, you should say, and we will have another direction.
The cost of the ride is 8 $ per person per hour.
Accommodation in Kamianets-Podilskyi
About accommodations, the city with its fortress can offer you a flat with the view of old fortress ad city. Also at the territory there is steam bath, car parking, the patio for kebab, and a room with all accommodations.
The price is 35$
If you want to get acquaintance with city's district, you can stay at the flat, at nice neighborhood. The flat is near by railway station (I can assure there is no noisy from station) . The price of flat is 35$ per 4 persons 42$ per 6
Map of Khotyn
English detailed map of Khotyn
Visiting Khotyn? We would like to provide you with all the basic informations about Khotyn you need. Here you can find the detailed street map of Khotyn in English and more tourist informations about the city.
This is a beautiful map. Fully indexed in English. Shows all types of roads, road numbers, distances between points in kilometers, passes and altitudes in meters, railways, lighthouses, administrative boundaries, national parks and nature preserves, petrol stations, airports, and more.
We wish you a pleasant stay in Khotyn.
Local guide in Kamianets-Podilskyi
Yulia
I am Yulia, your tour guide in the historical and mysterious town Kamanyets-Podilsky. Ladies and gentlemen, with me you will not only see popular places of interesting, you will discover inner town with its traditions, you will feel a fantastic culture, you will taste a delicious cuisine, you will have an opportunity to try not only ordinary but extra-ordinary attractions with me. I promise, I will not only give you an information about the place you visit, I will do all my best, to make you feel like at home. Like in a proverb, "Mi casa – su casa"- "My home is you home".
Dear tourists, I am waiting for you, I can assure, you will not regret!
Your guide